Competitive Rowing Programs
Rowing or Coxing?
There are two important positions on all rowing teams, there are rowers and there are coxswains.  Most people don't know what coxswains do and why they are such a vital part of the team.
Coxswains – The Ninth Seat
Norcal Crew is looking for coxswains, who are one of the most important person in the boat. After all, you can legally finish a race without all of your rowers, but you get disqualified if the coxswain isn't in the boat when you cross the finish line.  The coxswain is the coach in the boat, chief strategist during a race, encourages the crew, and is in charge of steering. Stephen Hawking was a coxswain for Oxford, and his involvement in rowing transformed his social life.   If you are a little undersized to be a rower, then coxing can be a great way to enjoy all the benefits of rowing and being a student-athlete.  Reach out to us if you have questions  or sign-up for our tryout period and see how being on the rowing team can transform your life.
Rowers
No rowing experience is necessary to join the team.  Norcal coaches are here to teach everyone the basics of rowing right up to racing at a national rowing regatta.  The teams train at a competitive level in all age groups.  All 8th graders are invited to join the U15 rowing team, it is a competitive team and Norcal is committed to the long term development for all athletes, focusing on conditioning and technique to set the athletes up for success in the future.
Norcal Crew's mission is to provide opportunities for instruction, training, and competition in the sport of rowing to middle and high school students across the San Francisco Peninsula. The structure of junior rowing competitions in the United States has changed to an age based system. The 2021 USRowing Youth National Regatta followed the new structure. The format of the regional championships for 2022 will undergo significant change because of the shift to the new model. This document was written to help explain the system to everyone in our community.
These definitions are straight out of the USRowing Rules of Rowing
Youth: "A Youth is a Competitor who in the current calendar year does not attain the age of 19, or who is and has been continuously enrolled in secondary school as a full-time student seeking a diploma. A Competitor thus ceases to be a Youth after December 31 of the year of his or her 18th birthday, or of the year in which he or she completes the 12th grade of secondary school, having been a full-time student, whichever is later." The youth category is used at the USRowing youth regional championships and USRowing Youth National Championships.
U17: "A Competitor may compete in the U17 category until December 31 of the year of their 16th birthday." Someone who was born on January 1, 2005 cannot race as a U17 competitor in calendar year 2022. Neither can someone who was born on December 31, 2005.  The year in school is irrelevant.
U16: USRowing does not typically have U16 events at their national regattas. There may be U16 events at the regional level.  "A Competitor may compete in the U16 category until December 31 of the year of their 16th birthday."
U15: "A Competitor may compete in the U15 category until December 31 of the year of their 14th birthday."
Spring Rowing begins January 3, 2022 
The Schedule changes for some athletes in March, so please note the time changes.  Norcal strives to be a nationally competitive team and to accomplish this we need two things, quality practice time and quality water this schedule guarantees us both.  Here is the link to the Spring Schedule
New rower looking to join?  Please click here to sign up for our 2 week spring trial.  This is a chance for your athlete to try the sport and see if this new sport is for them.  We will offer the 2 week spring trial through the first week of February, after that the next time to try the sport will be at our summer camps beginning in June.
Any Middle Schooler who is 13 or in 8th grade is welcome to join the Under 15 group.  If an athlete is interested in joining and is a bit younger, we ask for a coach recomendation from summer camp or an in-person meeting to determine if they are ready to row competitively.  Rowing is a sport you can start in high school and still become an olympian, so there is time for your athlete to start rowing.
How to Join Norcal
Sign up here to do a two Week Trial
Most athletes will participate in a summer learn to row camp, but this is not necessary.  Norcal offers a trial to allow athletes to see what the team is about and if rowing fits into their academic life.  If athletes like the team at the end of the trial period, then the cost of the trial is deducted from the full tuition amount.
Some athletes want to play a fall sport.  That is great!  Athletes are welcome to begin rowing with Norcal after their fall sport.  Norcal recommends that athletes who are going to join after a fall sport sign up for the trial and come on Saturday's and any days that they have off from their fall sport to allow them to meet their team members and learn as much technique as possible.  If athletes join late we will pro-rate the tuition.
Sign up here to do a two Week Trial
What to Wear
Gym clothes and running shoes/socks. Recommended: hat, sunscreen, reusable water bottle, sunglasses, windbreaker, and water-resistant sweats in cold weather.
Financial Aid
Competitive Team Financial Application (53k)
All athletes are encouraged to participate in Norcal Crew regardless of their ability to pay.  Scholarships are available for qualifying families.  Please contact director@norcalcrew.org with questions.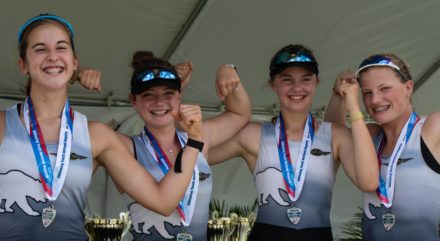 ---