Competitive Teams
Norcal's competitive teams practice five or six days a week from August through May and compete at local, state, regional, and national competitions. We have men's and women's teams in all junior age categories: U15, U16, U17, and U19. No rowing experience is necessary to join the team, although most athletes join the competitive program after completing one or more summer camp programs. Norcal coaches will teach everyone the basics of rowing and all teams train at a competitive level. Norcal is committed to the long-term development of all athletes, focusing on conditioning and technique to set the athletes up for success in the future.
During the 2022-2023 season, the following age categories apply:
U15: Athletes turn 15 in 2024 or later.
U16: Athletes turn 16 in 2024 or later.
U17: Athletes turn 17 in 2024 or later.
U19: Athletes turn 19 in 2024 or later.
Norcal offers a four-week trial to allow athletes to see what the team is about and if rowing fits into their academic life. If athletes like the team at the end of the trial period, the cost of the trial is deducted from the full tuition amount.
Some athletes want to play a fall sport. That is great! Athletes are welcome to begin rowing with Norcal after their fall sport. Norcal recommends that athletes who are going to join after a fall sport sign up for the trial and come on Saturdays and any days that they have off from their fall sport to allow them to meet their teammates and learn as much technique as possible. If athletes join late, we will pro-rate the tuition.
Rowing is an intense sport and competitive team members are expected to attend every practice and race along with their team. Practices last between two and four hours each day. Here is the Fall 2022 practice schedule.
What to Wear
Gym clothes and running shoes/socks. Recommended: hat, sunscreen, reusable water bottle, sunglasses, windbreaker, and water-resistant sweats in cold weather.
Financial Aid
All athletes are encouraged to participate in Norcal Crew regardless of their ability to pay. Scholarships are available for qualifying families. To register for the team, please fill out the financial aid application and submit it to: scholarships@norcalcrew.org. Once you have submitted the application, please register for the team. When checking out, please use the coupon code: SCHOL22. This will take 96% off the fee and you will be asked to only pay a small registration fee. The scholarship committee will review the scholarship applications mid-September and we will get back to you with a decision then. Please note, until we get back to you about your requested scholarship, your athlete will be welcome to row with the team. Scholarship amounts are give as a percentage of the tuition and travel for the full semester.
Please contact scholarships@norcalcrew.org with questions.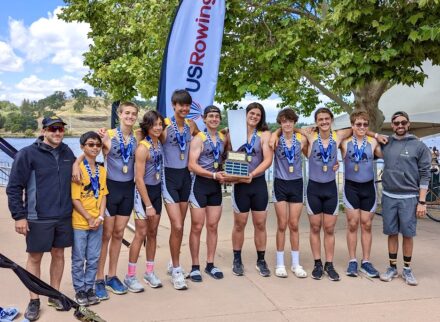 Norcal's 2022-2023 Racing Season
*For away regattas, athletes will travel 1-2 days before/after the race.
FALL 2022 RACES
Oct. 9             Head of the Port, West Sacramento, CA
Oct. 21-23    Head of the Charles, Boston, MA
Oct. 29          Head of the American, Lake Natoma, CA
Nov. 5-6        Head of the Lake, Seattle, WA
Nov. 13         Head of the Lagoon, Foster City, CA
SPRING 2023 RACES
Feb. 18          Pacific Rowing Club Novice/U17 Regatta, San Francisco, CA
Feb. 18          President's Day Regatta, Long Beach, CA
Feb. 25-26    Faultline Face-Off Invitational, Orinda, CA
Mar. 11-12   Long Beach Crew Invitational, Long Beach, CA
Apr. 1-2        San Diego Crew Classic, San Diego, CA
Apr. 8            510 Sprints, Oakland, CA (tentative)
Apr. 15-16    Capital Crew, Lake Natoma, CA (tentative)
May 5-7        USRowing Southwest Regionals, Lake Natoma, CA
Jun. 8-11       US Rowing National Championships, Sarasota, FL (hopefully!)
---