Program Overview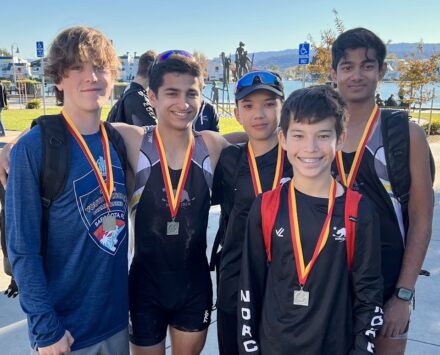 Norcal Crew is a nationally competitive program dedicated to the development of junior athletes through the sport of rowing. We provide a path to guide athletes from their first strokes as novices all the way to elite national and international competition. Many of our athletes come to Norcal without prior experience with any sports. While 99% of our athletes have never rowed before when they first walk through our gates, within a few years they are able to be competitive at the top levels of the sport.
Programs offered at Norcal:
7th-12th Grade
Aug.-May
All rowers train and compete in their age groups. The age groups are U15, U16, U17, and U19. The team trains five-six days each week starting in late August, and running through the USRowing Southwest Regional Championship on the first weekend in May (with breaks, of course). The team trains at a high level, while allowing for the growth, learning, and mistakes that accompany the athletes' first year competing in the sport.
Fitness Rowing is an alternative to the competitive team.
6th- 12th grade
June-Aug.
Five-day camps are a great chance for athletes to get out on the water and try rowing for the first time. Camps are designated for different ages and abilities. Camps will be posted on our website by the middle of February each year.
---